Sponsorship
If you would like to sponsor the club in any way please find form attached
The Ledbury Leader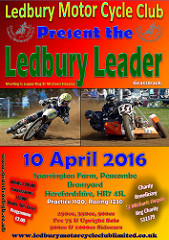 January 24 Auto Jumble CANCELLED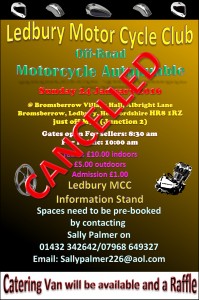 Annual General Meeting
Ledbury Motor Cycle Club Annual General Meeting is to be held on Wednesday 3rd February 2016 at 8.00pm at our new venue Tarrington Arms, Ledbury Road, Tarrington, Hereford HR1 4HX . Everybody Welcome.
Happy Christmas  and very happy New Year to everybody from Ledbury MCC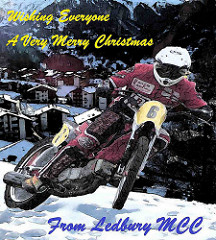 Auto Jumble
We are pleased to once again confirmed the details for the Auto Jumble.
It will be at Bromsberrow Village Hall, Albright Lane on Sunday 24th January 2016.
Doors Open: 8.30 am for sellers, and 10.00am for buyers.
Our dates for the new 2016 are now out:-
April 10 Ledbury Leader,
June 11 Early Evening of Grass Track,
August 21 Ledbury Flyer.
For more information please go to Grasstrackgb
Our new venue for the Ledbury Leader is Bromyard which is
The Ledbury Leader Regs
The Ledbury Leader is now on the calendar 
Saturday Evening of Grasstrack Racing
AND HERE
Saturday Evening of Grass Track Racing
Regs & Entry Form are now available HERE
Saturday Evening of Grass Track Racing
Hi All, I am now able to confirm that our Saturday Evening of Grass Track Racing Event, will now be going ahead as planned on Saturday 13th June 2015 at Hazle Meadows Venue, Ledbury. Reg's should be available shortly. I will keep you updated with details as soon as all confirmed. Sally Palmer.
The Spring Leader 2015
Following our committee meeting of yesterday evening, I have been asked to announce that the club is not in a position to go ahead with the Spring Leader on 12th April 2015.
We learnt 3 weeks ago, that the Landowner of the proposed venue has decided that he has other plans for his land this year and sadly these plans do not include Grass Track events.
Since receiving this disappointing news, the Committee and Club members have been extremley busy trying to find suitable land and willing Landowners to rent fields to us, but at the moment we have been unable to find a suitable venue for the 12th April at such short notice,so we have had to make the difficult decision at this stage to announce the non running of the Spring Leader due to running out of time. We have some possible venues for later in the season,and the search will continue in the meantime for suitable land for future events.
The club would like to thank all riders that have been enquiring re reg's for the 12th April and for your continued support of Ledbury MCC and we hope very much that you will continue to support us in the future.
Happy Christmas and very happy New Year to everybody from Ledbury MCC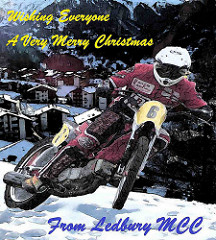 Grasstrack Forum
A new grasstrack forum has been introduced. Please take a look.
HERE
Congratulations to Martin Williams and Clare Farrell 
"Congratulations to Martin Williams and Clare Farrell on their wedding Saturday 13th December 2014. It was a magical day and nothing less than you deserve. Ledbury MCC wish you all the very best and a very long and happy marriage"
Many more photographs of  the wedding HERE.
Ledbury Motor Cycle Club can confirm their AGM details as follows:
Date:   Wednesday 21st  January 2015
Place: The Brewery, Bye Street, Ledbury, HR8 2AG
Time:   8pm prompt
Everybody welcome, Ledbury MCC Memberships for 2015 will be available, as will renewal of Licences.
Come and join us and have your say, we welcome new members and new ideas.
Club Membership Form now available
Sad News
Sadly I have been asked to announce on behalf of Marg Nobes (Pete's Wife) Tim and the Nobes Family, that very sadly, after a short illness, Pete lost his courageous battle and passed away at home in the presence of his family on Saturday (29th November 2014).
Pete's Funeral will take place on Wednesday 10th December 2014, at Blockley Church, Blockley, near Chipping Campden, (off the A44) at 2pm.
Anyone wishing to attend Pete's Funeral, are welcomed to do so at the Family's request.
Our first race meeting of the year is:-
The Spring Leader on 12 April.